The Frontenay village in Le Jura
The mediaval village and its castle
6km from the renowned Château-Chalon, Frontenay and its castle are a true haven for peace and contemplation.
In the middle ages, Frontenay was an important town with a fortified castle that protected the Salt Road.
Right at the foot of the castle, you'll find yourself on a peaceful pathway lined with lidens, leading from the church to a small chapel. This place, along with the Way of the Cross up the reconstitution of Notre de Dame de Lourdes grotto, is a stronghold of Frontenay religious heritage.
The Vau district ( le Quartier de Vau) : located in the valley, a stream "le Saint Vincent" fed a mill, a forge and a blast furnace.
The Viseney district: in the middle of the village, takes its name from Visemal, lord of the Frontenay stronghold in the 16th century.
The Quartier de la Ville: located to the north, it was inhabited by bourgeois, judicial officers and merchants. The houses are larger and bear witness to a certain form of town planning and the importance of the district in feudal times. The Gîte du bon Pays (lodging of the good country) is located in this district.
Frontenay belongs to the Revermont region, formerly called "Le Bon Pays" which characterizes the Jura vineyards.
You are both on The Wine Road and The Comté Road, and all the wonders of Jura are just within your reach. : vineyards, steephead valleys, two of the Most Beautiful Villages of France, Château-Chalon and Baume les Messieurs, but also lakes and forests of Bresse and the land of lakes, on the first plateau…
Close by you will also find Poligny, capital of the Comté and city of art and history, Arbois and Salins-les-Bains, with its UNESCO World Heritage thermal baths. Without forgetting Lons-le-Saunier, the capital of the department !
Voiteur : 5 km – 10 min
Château-Chalon : 6 km – 10 min
Poligny : 13 km – 15 min
Baume-les-Messieurs : 13 km – 20 min
Lons-le-Saunier : 18 km – 25 min
Arbois : 20 km – 20 min
Lac de Chalain : 25 km – 30 min – 28 mn
Moidons caves : 27 km – 28 mn
Arc-et-Senans : 35 km – 50 min
Lac de Vouglans : 40 km – 45 min
Dole : 50 km – 45 min
Cascades du Hérisson : 55 km – 50 min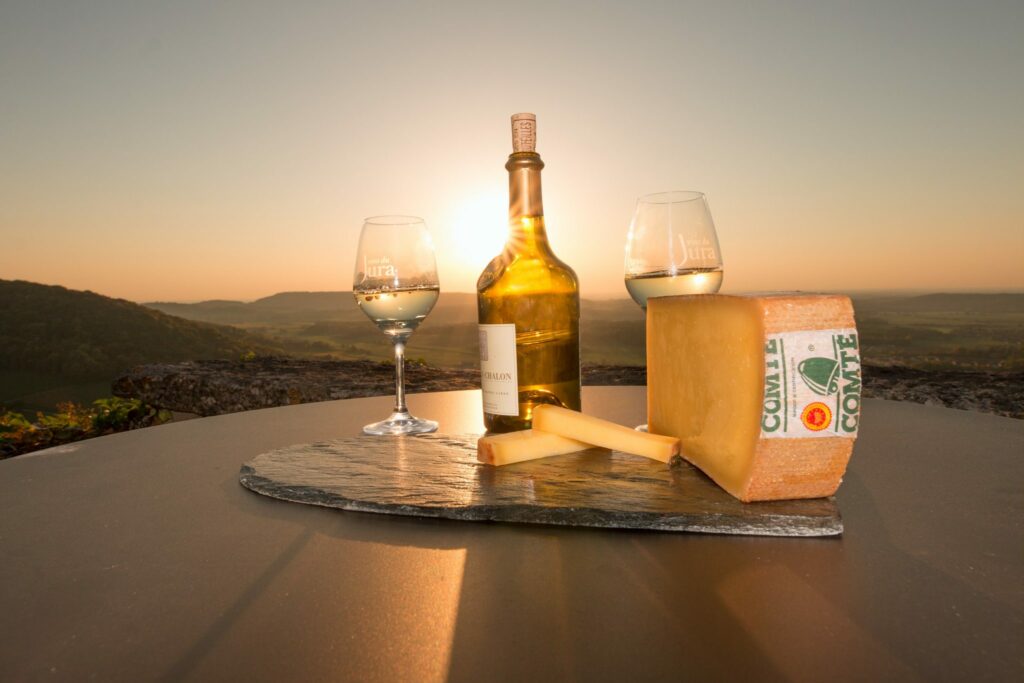 Wine enthusiasts are sure to love Jura ! You'll find countless well-known and appraised restaurants where you'll be able to enjoy no less than 13 AOP : wines, cheeses (the famous Comté), poultry…